I'm a fairly organized person. I don't really have a lot of clutter. But what drew me to tidy up, using the KonMari method, was the promise of not having to reorganize. You see, no matter how much I tried, I still needed to reorganize my closet every 2 months. It starts off looking neat, but gradually, it turns into messy piles. Once one pile got compromised, the contagion started. The pile next to it got affected and then the next.
Having to keep reorganizing was my norm. I didn't think there was a way to keep an organized closet for a long time, until I watched Tidying Up with Marie Kondo.
If you haven't read the book or haven't seen the show, here's the essence of Marie Kondo's method.
My Experience: The Closet
I had a late start, 8 PM. I emptied my closet, took every piece of clothing that I owned and piled them on the bed. One by one, I held each piece of item and felt if it sparked joy.
---
Using Joy as the metric for keeping an item changes everything!
---
Before, I automatically kept what I wore regularly and folded those first. Feeling for joy rather than asking myself if I would wear an item again, completely changed the way I organize. I started with a clean slate, regardless of whether or not I was still using a piece of clothing.
I was surprised that I actually gave away clothing that I was still wearing regularly. They were convenient, but I realized that they didn't give me joy. The process of thanking each item of clothing that I decided to donate made it easier to part ways. Knowing that there was gratitude involved in the process of letting go, I found myself being more selective in what I kept. In fact, I went through my "to keep" pile a few times before putting items in the closet again.
I also spent less time trying on clothes. Throughout the process, I tried on one dress when I was indecisive. But that was it.
How To Fold
Previously, I folded my clothes flat and stacked them up. If I had to grab an item from the bottom, then the stack would overtime, collapse.
Using the KonMari way of folding allows me to grab any piece of clothing without having to reorganize. I can also recognize an item without unfolding it. I could see everything in my closet without having to pull anything out.
---
Folding Method
Organize by Item, Color, Fabric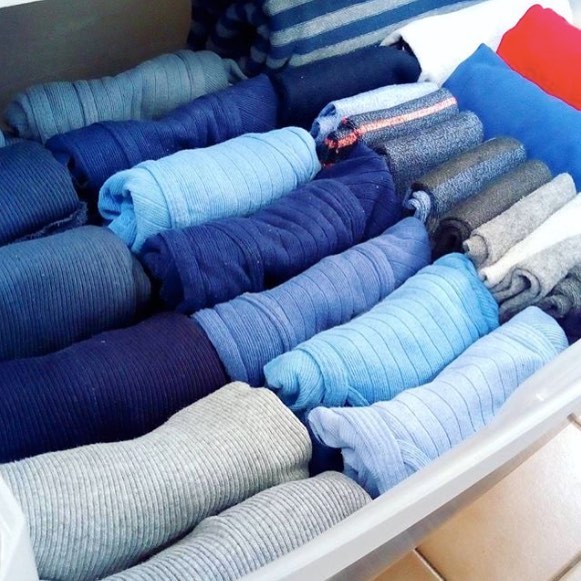 ---
Organizational Products
The last thing I wanted to do as I was tidying was buy more stuff, such as boxes and baskets. I was surprised that I didn't really need to buy additional materials for my closet. I used containers that I previously had and it worked perfectly.
I appreciate that Marie uses packaging boxes to organize in the show. In fact, she advices families to first finish organizing before buying drawers and organizational products so you can be completely sure of what you need.
To organize office and bathroom drawers, I ended up using boxes from Apple products, and they work perfectly!
After I finished organizing all the cabinets in the house, I ended up spending $61. I bought 6 packs of collapsable fabric boxes and a bamboo utensil organizer.
The Last 5%
Looking back, organizing the last 5% of my stuff was where I would become lazy and just find a spot that was open. But the KonMari process forced my to think about each item and find a designated spot for it, that made sense to me.
Here's an example. On the top shelf of my closet, I placed scarves in a zip bag that came with my pillow. It seemed out of place and it didn't give me joy. So I used a basket I had instead. This really surprised me. I wanted every space in my closet to look neat. I wanted utility but I also wanted it to be pretty.
It took about 5 hours to finish organizing my closet. By the end of it, I didn't think I could feel this much joy staring at a tidy closet.
Lessons Learned
When every piece of item has a specific place, it's not only easy to find things, but you know exactly what you have.
Knowledge is power and it saves money! I didn't think I had as much stuff as I did. Before organizing, I thought I needed a pair of yoga pants, but after, I was sure that I did not need any piece of clothing. I have more than enough.
I appreciate what I have more. Everything I own was curated with care and special to me.
I feel happy and inspired every time I look at my closet.
Tidying is a creative and personal process.
KonMari Method: Quick Guide*
More than tips to organize your stuff, the Marie Kondo method follows a life philosophy that translates to how we deal with our things. It's a minimalist approach that centers on discovering what gives us joy. The process of organizing is not just a task that needs to be done, but morphs into an act of self-evaluation and reflection.
The Philosophy Breakdown
Have a vision of your ideal life.
Think of what you want to keep going forward to achieve your ideal life.
Keep only items that spark joy.
Everything should have a specific place.
Respect your things.
Gratitude: start by thanking your house for all the good it has brought you and your loved ones. Before donating or disregarding your stuff, thank it for the service and joy it has provided.
Be understanding of the people you live with. Tidying is a personal journey and you might not understand why your partner or someone you live with decides to keep certain things, but you can't force them or mock them to throw away stuff.
Tips
Organize in this order: clothing, books, documents, komono (miscellaneous), and mementos/sentimental things.
Remove everything and pile them up so you can see it all. For example, if you're organizing your clothes and they are in different rooms or parts of the house, it is critical to take everything out. Don't organize by room.
Look at your piles and see how you feel looking at it.
Take each item and feel if the item sparks joy when deciding what to keep. If you're having a difficult time finding this feeling, start with items that you're sure of, such as items that you know you love.
Keep items upright or in a way where you can see everything when organizing.
The end result should give you joy when you see it.
*I still recommend watching the show or reading the book if you have the time.