This is not a sponsored post. This post was updated on July 21, 2023.
It was time to replace our non-stick pans, and after researching online, I went with ceramic-coated pans and narrowed it down to Caraway. Here's why:
What I Was Looking For: My 3 Top Priorities
ONE: I wanted an alternative to Teflon cookware.
Considered a forever chemical, polytetrafluoroetheylene (PTFE), a polymer used in making Teflon coating, is toxic and doesn't break down in the environment. Although DuPont, the manufacturer of Teflon, claims that it has faced out harmful PTFE in the US, it's unclear if the replacement is any safer.
For that reason, I decided to go with ceramic-coated cookware, a mineral-based coating without the toxins. Ceramic-coated cookware is usually made of aluminum or steel coated in ceramic.
TWO: I wanted to purchase from an innovative brand that embraces transparency.
THREE: A brand that prioritizes the environment.
How Caraway Won Me Over
I chose Caraway because not only did they check the boxes of what I was looking for, but I found them to be the brand most committed to reducing their carbon footprint, and on top of that, attention to utility and design. Caraway:
FOUR: Has a transparent and ethnical manufacturing process: The company has a certified manufacturing process and facility.
FIVE: Uses environmentally conscious packaging
SIX: Is recyclable. I contacted Caraway customer service and confirmed that they are. Remember that since what can and can't be recycled depends on local governments and their capabilities, check what can be recycled in your area.
In terms of utility:
SEVEN: Weight: I love my enamel-coated cast iron cookware, but they can get pretty heavy.
EIGHT: Oven and broiler safe for up to 650 F.
NINE: Dishwasher safe, but TBH, they are so easy to wash that I quickly wash them by hand.
LAST (TEN): They look good. I went with the white ones.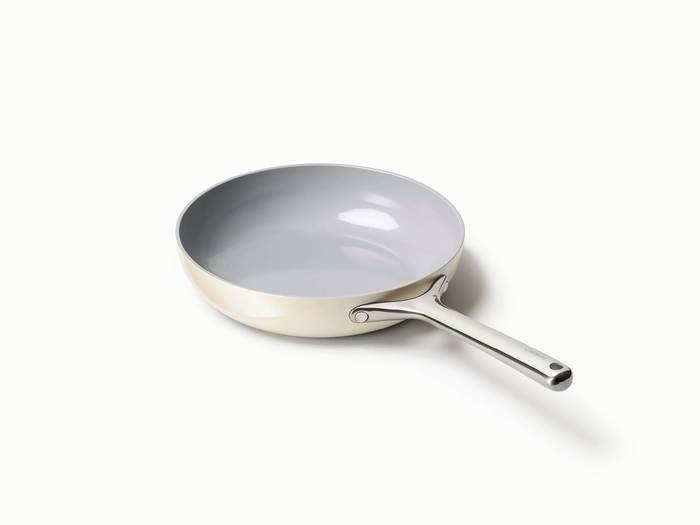 The Online Buying Experience
A very straight-forward and no-fuss process, it's an advantage of a direct-to-consumer brand with their own website. I've done my research, knew what I wanted, and ready to purchase.
Within 12 hours after placing the order, I received confirmation of shipping and it arrived in 2 days.
True to their word, the packaging was plastic-free. The pans were in what looks like a polypropylene or non-woven fabric pouch, which can be reused or recycled.
Cooking with Caraway Cookware
I needed a fry pan and sauté pan, and I got both. You can now buy individual cookware, whereas previously, you had to buy the full set.
I have been using my pans for weeks now, and I'm completely satisfied with them. I've made pasta, curry, heated tortilla, dry roasted spices without a problem.
3 Years After Purchasing
I'm updating the review 3 years after buying the pan. When it comes to clean-up, I've had no problems with the sauté pan, but I can't say the same thing for the fry pan. It's The edges, once they get browned and stained are not as easy to clean even following the company's instructions. I've had to soak paper towels in white vinegar, and leave them over for 1 hour and add baking soda. This removes some of the stain, but not as clean as the Le Creuset cast iron.
From 1 to 10 Score (10 Being the Best)
About the Company and Founder
Founder: Jordan Nathan
Nathan left his non-stick pan a bit too long on the burner and found his apartment filled with smoke and chemical smell. That started the idea for Carawan pans.