Why it's important to choose the right lip balm for you:
Some can worsen your lip issues
Although in small amounts, we ingest it
Sustainability
Cruelty-free
The Arguments on What to Avoid, or Not
Petrolatum
Professionals still recommend petrolatum for dry and chapped lips, but petrochemicals used in skin care can sometimes cause negative reactions such as fungal and bacterial infections and allergies. Petrolatum works as an occlusive barrier. Meaning, it traps moisture, but doesn't allow the absorption of moisture from the atmosphere, which prevents the skin from breathing.
Petrolatum is a by-product of petroleum, a non-renewable resource. Currently, Canada and the US do not ban the use of petroleum in cosmetics. When refined properly, health agencies consider petrolatum safe for external use. However, if done poorly and cheaply, refining can lead to contamination with polycyclic aromatic hydrocarbons, or PAHs, which are known carcinogens. As a result, the European Union (EU), enforces a stricter use of petrolatum in products, specifically, transparency when it comes to the refining process.
Beeswax
Industrial bee farming not only harms bees but also the ecosystem and human food production. Some of the inhume practices of industrial bee keeping:
Artificial feed: substituting honey with sugar or high fructose corn syrup, leading to bee starvation, malnutrition, and weakened immune system.
Wing clipping: Clipping the queen bee's wings to ensure consistent honey production.
Bees are artificially inseminated.
Domesticating honeybees contributes negatively to the overall survival of other types of bees, which humanity needs for food production.
Some farmers gas hives during the winter months in order to eliminate costs of keeping bees alive.
To avoid beeswax and cruelty-free practices, best to choose plant-based lip balms.
Plastic Tubes
Those who want to decrease plastic consumption can opt for paper tubes.
Our Winners
We chose our winners based on the ability to produce quality lip balms without synthetic ingredients, beeswax, and also innovating the plastic tube. Recording how many times we had to reapply while keeping the same routine allowed us to measure quality.
The research started out with 7 lip balms, all free of petrolatum and beeswax. After careful consideration of the ingredients, we narrowed it down to 4. We tried each one for a minimum of 2 full days and recorded how many times we needed to reapply and how we felt while keeping the same routine to test for efficiency. Packaging, from mailing to the actual product were also taken into account.
No. 1 pick: Coconut Cacao
What we love: the smooth feel, balm stays on, and doesn't dry out from the tube, the chunky size, and the smell.
About the company: Founded in 2009, Brooklyn, the company is a vegan and low-waste company.
No. 2 pick: River Organics Bare Lip Balm
What we love: the minimalist approach, the adorable size, and how it feels when applied.
About the company: Located in Wilmington, NC and founded by a husband and wife team. River Organics is a plant-based and low-waste company.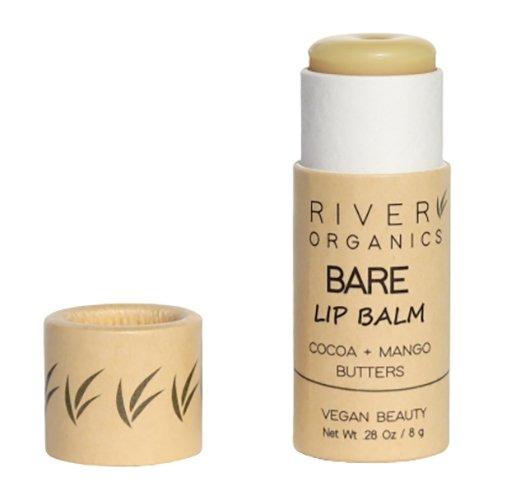 A Note
Keep in mind that some plant-based alternatives are not necessarily free from synthetic ingredients. In addition, in our research, we discovered that pricier alternatives don't always translate to ethically sourced or organic ingredients.