A power salad transforms an appetizer into a meal.
In a bowl, you get protein, veggies, fruits, and energy source. A good power salad fills you up, without leaving you feeling sluggish or heavy. If you want to quickly make power salads at home, try meal prepping for this Veggie Grill inspired kale and quinoa salad with tahini dressing.
Meal Prepping
Putting together a salad all at once, especially if using freshly-made ingredients can be time consuming and overwhelming. But meal prepping solves the problem.
We designed this recipe to be flexible, with options for store-bought prepared ingredients or you can also make from scratch and prepare ahead of time.
We portioned the main salad serving for two people. However, we increased the portions for the meal-prep ingredients, since these can be stored and used for other recipes. For example, you can add the pickled onions to sandwiches and the chickpea crumble can be a nutritious snack. You can also add it to fried rice, or anything that needs a bit of crunch or bite.
A must for anyone meal prepping are air-tight containers to maintain freshness.
On Kale
Kale is a hearty leafy green. In this recipe, we use baby kale, which is softer. The key to making a salad with kale: soak the kale in lemon juice and massage the lemon into the leaves.
Building a Salad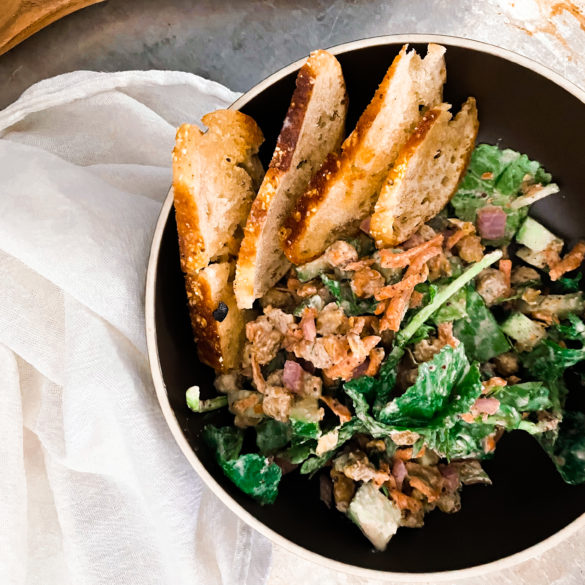 Ingredients
To meal prep the night before:
Pickled Red Onion 
1 large red onion 
2/3 cup apple cider vinegar 
1/3 cup filtered water
1 tsp sea salt
1 tbs granulated sugar 
Chickpea Crumble (optional)
2 cups cooked chickpeas 
1 tbs oil 
1 tsp paprika
salt to taste
Quinoa
2 cups raw quinoa 
3 cups of water 
salt 
olive oil 
Chopped Veggies or Fruits
3 carrots 
1 cucumber 
2 tomatoes 
Tahini Dressing (or store bought)
1 cup raw sesame seeds (unhulled preferred for nutrients and flavor).
2 tbs olive oil 
1 tbs mustard
1 garlic clove 
1/2 tsp salt
1/2 cup filtered water (or a bit more if the blender stalls)
Serving the salad for 2: 
2 cups of baby kale
salt to taste 
2 tbs lemon juice
1/2 cup of nuts and seeds (lightly toasted walnuts, pecans, sunflower seeds) 
1 cup of crunchy topping (if skipping the chickpea crumble)
if you decide to skip the chickpea crumble, you can add store-bought vegan bacon, crushed nacho chips, or vegan croutons. Adding a crunchy savory element completes the salad.  
Instructions
For prepping the night before:  
Chickpea Crumble 
Preheat oven to 425F degrees. 
If using uncooked chickpeas, check out this Instant Pot guide on how to cook raw chickpeas. If using canned, skip this part. 
Drain chickpeas of water thoroughly and place them in a bowl. 
Take a masher and flatten the chickpeas.
Add oil and spices. 
Place parchment paper on a baking tray and place the chickpeas. 
Bake for 20-25 minutes or until crispy. 
You can eat chickpea crumbles as a snack. Just add lemon juice, black salt, chopped tomatoes, and cilantro. 
Pickled Red Onions
Thinly slice the red onions or cut into cubes.  Place in a jar or bowl with an airtight lid. The container should have enough room to submerge onions in the vinegar brine. 
Add the rest of the ingredients in a sauce pan and on low flame, heat up ingredients to dissolve the sugar and salt. No need to boil.
Add the vinegar brine to the onions. Make sure the onions are completely submerged. Let it cool. Once cool, seal and place in the fridge and let sit for at least 8 hours. 
Add pickled red onions to your sandwiches, tacos, wraps. They add a ton of flavor and good for gut health. 
Quinoa 
Instant pot quinoa takes about 1 minute to cook. If you have an Instant Pot, we recommend this method. 
Alternatively, cook quinoa on stovetop: wash quinoa (if not pre-washed), and add and stir quinoa, water, oil, and salt to a pot. Cook until quinoa is tender and separates and not mushy. 
Prepping the Veggies
In a food processor, grate the carrots.
Dice the cucumbers and tomatoes. 
If using a food processor for the Tahini dressing, you can just quickly remove the veggie leftovers from the machine and use for tahini. 
Tahini Dressing
Take a non-stick pan and roast the sesame seeds in low-medium heat for about 4-5 minutes. The seeds can burn easily, so keep turning them. If using unhulled seeds, the seeds will turn slightly darker, while hulled seeds will turn golden in color. Both will have a fragrant smell. Let the seeds cool for about 5 minutes.
Once seeds have cooled, transfer them to a high-speed blender or a food processor with the rest of the ingredients. Blend until smooth. We tested this recipe with a Vitamix blender and food processor. For both, you have to scrape the sides to get a smooth consistency. The "spreads and dips setting" for the blender works well, but for the food processor, you have to turn on, scrape, and turn on again. Also, you can dd a bit more water, one tablespoon at a time, if machine stalls.
Store in an air-tight container in the fridge.  
Assemble the Salad: 
Put the baby kale in a large salad bowl and add lemon juice and a dash of salt. Massage the kale with the juice. Let it sit for  2 minutes. 
Add 2 tbs of the pickled onions and a bit of the vinegar brine and mix. 
Add the cut veggies/fruits, quinoa, nuts and seeds, and toppings. 
1 1/2 tbs of the dressing and mix well. 
Notes
Why baby kale? Compared to there kale types, baby kale is softer, so it takes a shorter time to prep and has a subtler taste.
Did You Make This Recipe?