Tofu contains all 9 essential amino acids. Half a cup or 124 grams contains 10 grams of protein. A savory breakfast full of protein, fiber, antioxidants, and good carbs, make this tofu scramble to start your day. You can eat as is or use it as burrito stuffing.
This recipe uses staple Indian spices. Even if you don't usually cook Indian food, the four spices in this recipe, mango, coriander, turmeric powder, and black salt, can be used for many dishes, like this cream of mushroom and mung bean soup.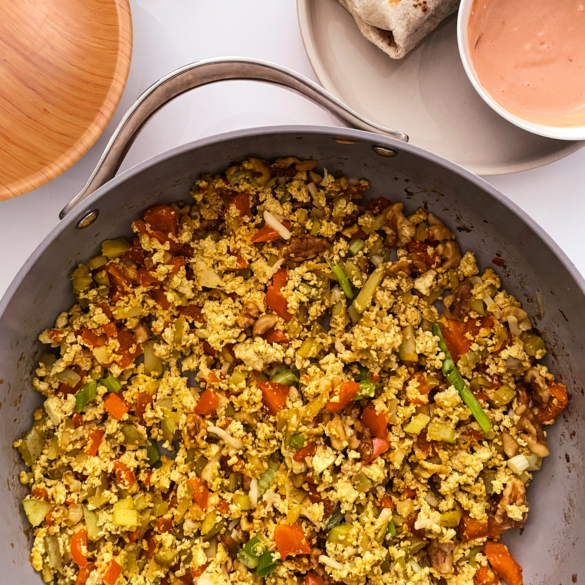 Ingredients
1 block of tofu extra firm, drained (14 oz. / 397 grams)
1/2 tsp coriander powder
1/2 tsp black salt

 

1/2 tsp mango powder
1/2 tsp coriander powder

 

1/2 cup raw walnuts (whole or pieces)
2 tbs high heat oil

 

5 garlic cloves (grated or minced)

 

2 cups potatoes, scrubbed and finely chopped. Preferably, small yellow potatoes. You can also use sweet potatoes.

 

1 tsp salt

 

1 red bell pepper

 

1/3 cup chopped spring onions

 

1/3 cup vegan mozzarella cheese

 
Optional: 
Tortilla to a make burrito

 

1 tbs vegan mayo
1/2 tbs ketchup
Instructions
Drain tofu. You can use a tofu drainer or place tofu on top of a strainer and place a plate. While tofu drains, start prepping.
Take drained tofu and use a fork or your hands to crumble the block. Then add spices.

 

Heat up a non-stick pan and roast walnuts in medium heat. It takes about 3 minutes. Careful not to burn them.

 

Add oil and garlic. The garlic should be ready in 15 seconds, especially if grated. Add potatoes and 1/2 tsp salt. Stir occasionally so they don't stick. When half cooked (about 3-5 minutes), add red bell peppers.
When potatoes and peppers are fully cooked, add the crumbled tofu and the rest of the salt. Stir and let it cook for about 3 minutes. Turn off heat and add spring onions and vegan mozzarella cheese.

 
To Serve: 
Eat in a bowl or have it as a burrito stuffing with the ketchup-mayo sauce.

 
Did You Make This Recipe?