If you have a hammer, all your problems will look like nails. This is the basic principle of the "law of instrument". Meaning, we tend to display a cognitive bias when it comes to choosing the tools we use to analyze problems. We lean on what is familiar, proven, and accessible to us.
Mental Health Tools
The good news, advances in mental health research has given us a more dynamic toolbox, from medical professionals, exercise, diet, wellness routines, drugs, and the phone. Recently, mental health apps have been gaining traction. They surged in popularity as a result of the pandemic, from the increased stress and anxiety, to the fact that the lockdown meant a reliance on teletherapy.
The bad news, the tools I mentioned are a luxury for a majority of the world's population. 79% of global suicide occurs in low and middle income countries. 264 million people suffer from depression globally.
An Alternative: Grandmas and The Friendship Bench
Dr. Dixon Chibanda, a psychiatrist from Zimbabwe, pioneered The Friendship Bench, a community-based mental health program, where grandmothers trained in evidence-based talk therapy, provide services as volunteers. The program addresses the importance of proximity, community, shared experience, and integrating local culture in addressing mental health solutions.
The Catalyst
Lack of transportation money led one of Dr. Chibanda's patient to miss a follow-up appointment and she eventually committed suicide. Zimbabwe, a country of 16 million people has only 12 trained psychiatrists and 74% of the population live on less than $5.50 a day. Aside from poverty, wars and HIV have plagued the country.
The program relies on Lay Health Workers (LHW). Sessions are free and accessible to local communities. The idea of training grandmas emerged from lack of resources. Unable to get professionals and hospital space to start the program, Dr. Chibanda was assigned a group of grandmothers instead. What seemed like a setback turned out to be a boon.
Initially, Dr. Chibanda trained the grandmothers in western medical lingo, but the grandmothers said that it wouldn't work:
In order to reach people, they insisted, they needed to communicate through culturally rooted concepts that people can identify with. They needed, in other words, to speak the language of their patients. So in addition to the formal training they received, they worked together to incorporate Shona concepts of opening up the mind, and uplifting and strengthening the spirit.

BBC
Grandmothers provide problem-solving talk therapy. One grandma starts all her sessions by introducing herself and follows up with this question: "What is your problem? Tell me everything, and let me help you with my words." The program combines scientific methods with local culture and empathy.
Kufungisis is the local word for depression in Zimbabwe, literally, "thinking too much" in Shona.
Kufungisisa is used to mean both a cause and a symptom of illness. Both patients and care providers view this term as being related to mental, social and spiritual distress.

PubMed | National Library of Medicine
Does the Program Work?
A research paper published in JAMA shows that the program works in reducing depression, suicidal thoughts, and those who attend the sessions report an improved quality of life.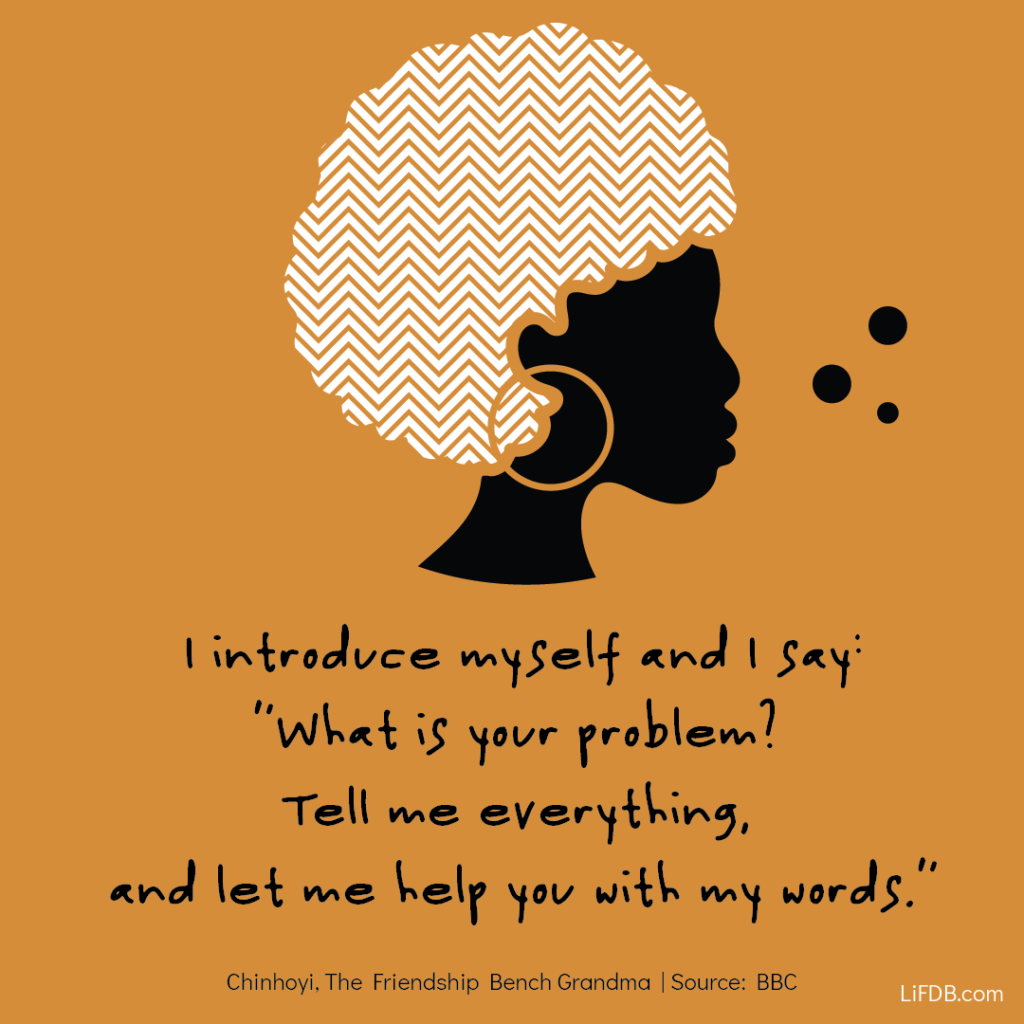 Implemented not only in other African countries but also in the US, the program takes on a global scale. But it still manages to stay true to the mission of incorporating local needs and circumstances. For example, in NYC, counselors are more diverse and not limited to grandmothers.
The World Under Stress & Black Lives Matter
Aside from global health and economic uncertainty, the stories that we have seen unfold regarding racial injustice show that people of color encounter daily stressors that some people just don't experience. These experiences range from: fearing for your life when going through certain neighborhoods or when pulled over by cops, to simply seeing someone clutch their bag a bit closer when you're walking next to them. The logic of integrating shared experiences, community, and local culture in therapy sessions, rather than a strictly medical and clinical approach may prove useful in building self-confidence, problem-solving skills, and finding connection with people who empathize.