These pancakes are super healthy and easy to make. You can make extra and store in the fridge.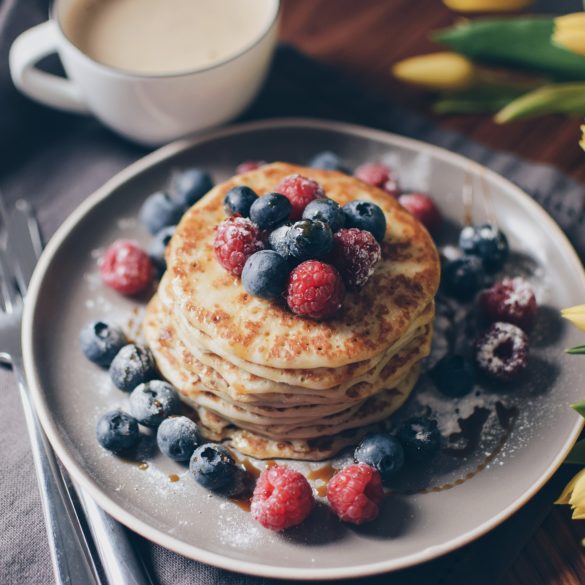 Ingredients
1 flax egg (mix 1 1/2 tbs. ground flax seeds + 3 tbsp. water for about 3-5 minutes)
1 cup buckwheat flour for gluten-free version or 1 cup wholewheat flour
3 tbs. brown palm sugar
1/4 tsp. salt
1 tbs. baking powder
1 cup oat milk (or any nut-based milk)
1/2 tbs. vanilla
1/2 tbs. apple cider vinegar
1/4 cup apple sauce
Optional: 1 tbs. chia seeds
For serving:
1 tbs. melted vegan butter
Berries or banana (optional for topping)
Maple syrup
Instructions
Make flax egg in a small bowl. In a large mixing bowl, combine all dry ingredients and mix. Then whisk in the flax egg and all liquid ingredients, making sure that there are no lumps. Place batter in the fridge for about 5 minutes. Heat up a lightly oiled cast-iron griddle or non-stick pan in low heat. Make sure the pan is hot enough but not smoking. Take 1/2 cup of the batter and gently pour on to the griddle. When the top starts to bubble, carefully flip the pancake and remove from griddle when golden brown. If needed, lightly oil the pan again for the next pancake.
On Cooking
Make sure the griddle or pan is hot enough before you make your first pancake.
Leave the batter in the fridge for about 5 minutes after mixing it.
Before flipping the pancake, make sure the top has bubbled up.
To flip the pancake, slowly work on all sides making sure that the edges are not sticking to the pan.
Healthier Way
Use a silicone basting brush to oil the pan. You'll be amazed how much lesser oil you will need.
Melt the butter instead of directly taking butter from the stick or tub and spreading it on the pancake. You will use much less butter.