For the last 5 years I've been attempting to make restaurant-style basmati rice. I've read up on how to perfect it in food blogs, asked advice from family in India, watched YouTube videos, and it always came up a bit short. The 3 main problems I encountered: a bit sticky, grains breaking easily, or undercooked.
The word basmati, which literally means "full of aroma" in Hindi gives a mouthwatering smell when cooked. It makes you appreciate each grain. Unlike the white jasmine rice served in east and southeast asian restaurants, which you can easily cook in a rice cooker, Basmati requires attention to details. More than a side dish, Basmati rice is quite special in this sense.
8 Tips for Restaurant-Style Basmati Rice
1
Choose LONG Grain White Basmati Rice: There are many types of rice and even Basmati has varieties. Make sure you choose long grain white Basmati. Wholefoods gave me what I consider my first Basmati cooking success and I stick to it.
2
Wash the rice with cold water and until the water is fairly clear from starch about 5-7 times: I put cold water, gently mix the rice, remove the starchy water, and repeat the process again.
3
Soak the rice for 10 – 12 minutes. Some are against this process and instead prefer lightly sautéing the grains in oil before putting to a boil. This never worked for me.
4
Drain and let the rice dry for 5 -7 minutes using a strainer or sieve. After soaking, I transfer the rice to a strainer. I make sure that I use a sieve and not a colander, since I find that it gets most of the water out.
5
Cook it like pasta for 6-7 minutes: boil salted water in a large pot. This was a game changer for me. Instead of painstakingly measuring water (and everyone seems to have their own water/rice ratio), cooking the rice like pasta gives me control. After straining, I place the now washed dry-ish rice in boiling water, have the heat on medium, and leave it alone for about 6-7 minutes. Start checking after 6 minutes, just to avoid overcooking. When the grains have reached al dente status, turn off flame. The rice should be fully cooked inside.
6
Drain the rice in a sieve. I find that a colander traps more heat and continues cooking the rice, so I use a sieve. I make sure not to overstuff the sieve, so if you have to strain in batches, do it. Stuffing the strainer might lead to grain-breakage if you place too much weight on a batch of rice.
7
Fluff with a silicone or soft utensil: Most recommend using a fork, but this doesn't work for me. That process breaks some of the grains, which breaks my heart in the process. Be gentle with your rice and make each grain count. Fluff to make sure that you release some of the heat. I fluff about 5 times.
8
Optional finishing touches: add salt and lemon juice to the rice and gently fluff to mix. Adding the lemon and salt adds tons of flavor, and perfect if you decide to make fried rice. I like to keep cooked basmati in the fridge so I can quickly make fried rice. In an airtight container, it stays fresh for about 5 days.
Lemon-Garlic Basmati Fried Rice
Although we usually find Basmati in South Asian restaurants, I like to mix Mediterranean flavors with the taste and texture of Basmati.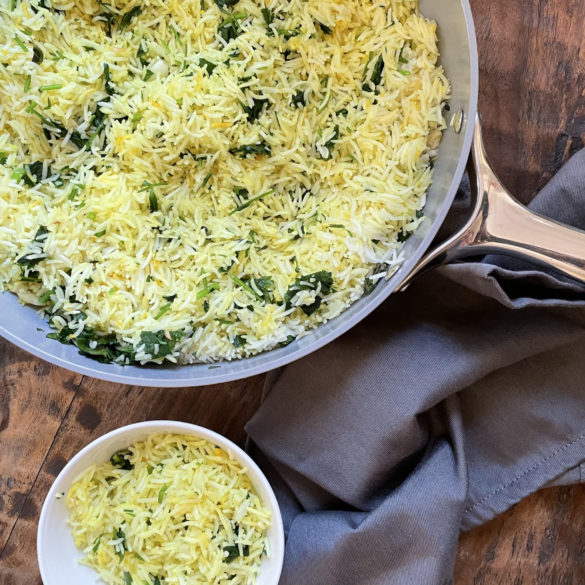 Ingredients
2 cups of cooked Basmati rice
1 tbs olive oil
4 garlic cloves
1 1/2 cups chopped parsley
1/2 tsp turmeric powder
1 tbs lemon juice
1 tsp salt
Instructions
Add 1 tbs of olive oil in a non-stick sauté pan or heavy-bottomed pot, using medium-low flame. Add finely chopped garlic and sauté for about 2 minutes, careful not to burn them, but enough to cook them and flavor the oil.
Add 1 1/2 cups of chopped parsley and cook for a minute.
Add cooked basmati and stir in turmeric and salt for about a minute. Turn off flame and add lemon juice.
Did You Make This Recipe?
Did You Know?
Compared to other white rice, Basmati white rice has a lower glycemic index. Glycemic index (GI), a number from 0 to 100, is a system of assigning a number to carbohydrate-containing foods according to how much each food increases blood sugar. Basmati has a low to medium GI (50-58) GI score, while other white race tend to be in the higher GI range.
Low GI: 0-55
Medium GI: 56-69
High GI: 70-100