Roasting cashews is super easy and the ability to tailor the flavor to your taste, worth it. This recipe combines the smokey flavor of chipotle and the tanginess of thyme. Full of healthy fats, high in protein, and rich in copper, snack healthy with roasted cashews.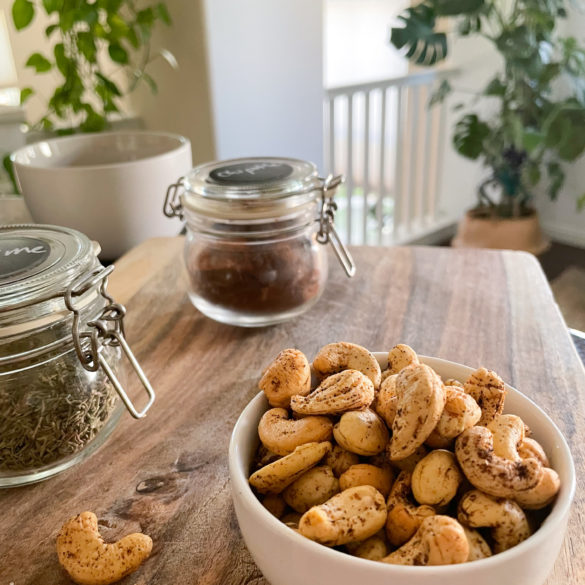 Ingredients
4 cups of unroasted whole cashews 
1 tbs vegan butter
1 1/2  tsp chipotle powder (if using chipotle flakes, grind)
1 tbs dried thyme
1/2 tsp salt (or to taste) 
1 tbs palm sugar 
Instructions
Preheat the oven to 375 degrees. Line the baking tray (silicone mat or parchment paper). Place the cashews on the lined tray, making sure the nuts are spread apart. Bake for 10-12 minutes or until golden in color. 
While waiting for the cashews to roast, melt butter. 
When the cashews are done and still hot, carefully transfer to a large mixing bowl. Pour the melted butter and coat the nuts. Add the rest of the ingredients one by one and mix until spices coat the nuts. Enjoy!  
Notes
Store in an airtight container when nuts cool.
Did You Make This Recipe?