Khloé Kardashian graced the cover of Health. The decision gained intense engagement on the publication's Instagram account. But that's the pull of the Kardashians—they get loyal supporters and critics alike.
The Criticisms
A person who has undergone, what some people believe, excessive plastic surgery, can't be on the cover of a health magazine. 
Her past doesn't justify her being on the cover. Bringing past endorsements such as flat tummy tea or obsession with looks as a metric for health doesn't deserve a cover. As one person put it, "throwing tantrum because of an unedited picture of her" doesn't represent healthy.
Unrealizable lifestyle doesn't deserve a cover. Critics point out that with her money, she has access to trainers, surgeons, and chefs. How can people actually relate?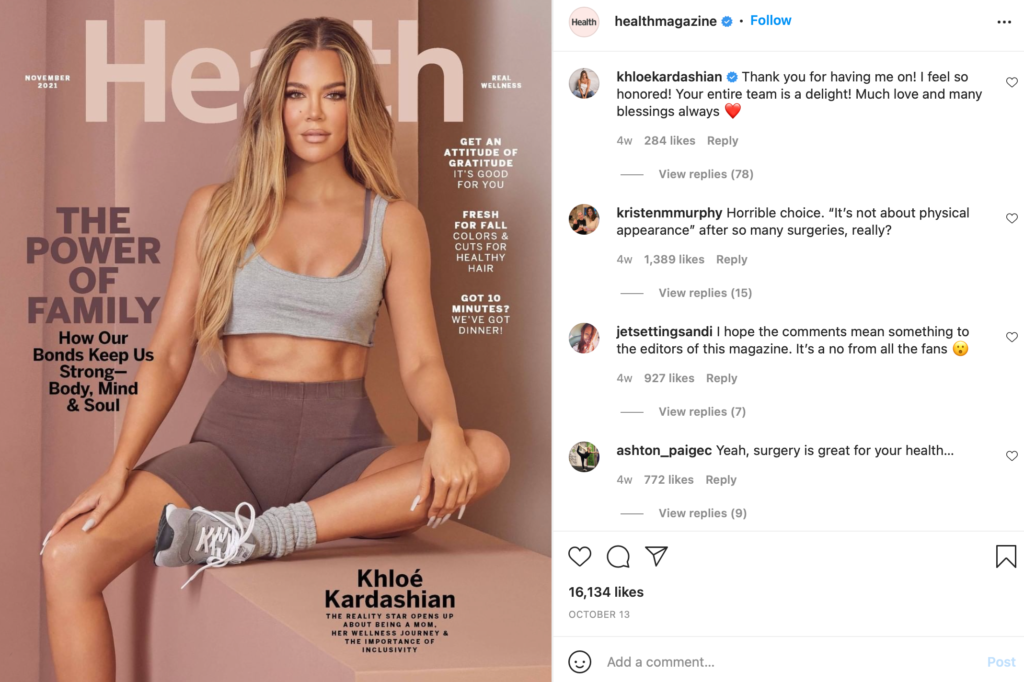 The debate centers on two points. First, health can't look a certain way. Second, should someone be on the cover if most people can't relate to them, specifically, when it comes to money. What the critics overlook, however, is the journey and personalization of our health. By looking at the cover and crossing off Khloé's story, critics also succumb to the simple notion they accuse her of: health and looks always go hand in hand. Moreover, it's impossible to relate to all health journeys and stories. But that's exactly the point. We want diverse points of view.
Keeping an Open Mind
I understand. It's easy to get riled up by how society represents health. Below, we offer thoughtful ways to think about health magazines and covers, if they bother you.
On Looks
Plastic surgeries, excessive or not, have stories. The reasons for getting plastic surgery, whether it ends in regret or satisfaction, offer a glimpse into someone's journey to self-acceptance. Let's learn from it. Cosmetic surgery might not work for some, but it doesn't mean it doesn't work for others.
Wellness Is a Journey
All wellness journeys come with a past, present, and future. Habits, practices, and actions we may have embraced in the past doesn't always carry over. Let's not crucify others for their past. Rather, let's celebrate transitions and change.
Advantages and Disadvantages
Affording certain luxuries in life doesn't invalidate health stories. Having a trainer doesn't mean we don't have to do the work. We all experience different pressures in life. And Khloé's story captures the life of someone who grew up a celebrity. An unedited picture posted online might not matter to most of us, but how will that affect someone who has that much influence? We can all expand our worldview with these stories.
Diligence
Read and digest the entirety of the piece. Read the article that accompanies the cover. In this case, Khloé talks about motherhood, family, her brand's effort at inclusivity, her relationship with food, attitudes and life lessons that transcend money and fame. It's easy to reject something because of a cover, a rumor, or habit. If you're critical about an article, read it fully before judgment.
History
The advantage of digital subscriptions such as Apple News+ is that you can look at past covers easily. Assess if the issues that bother you consistently show up in the magazine. If it does, maybe it's time to part ways.