Treat your furry friends to this soft cookie, loaded with beta-carotene, an antioxidant, fiber, vitamin B, and C. Made with sweet potatoes and oats, you can pop one in your mouth too and snack with your dog.
Older dogs who have a hard time chewing will surely benefit from the softness!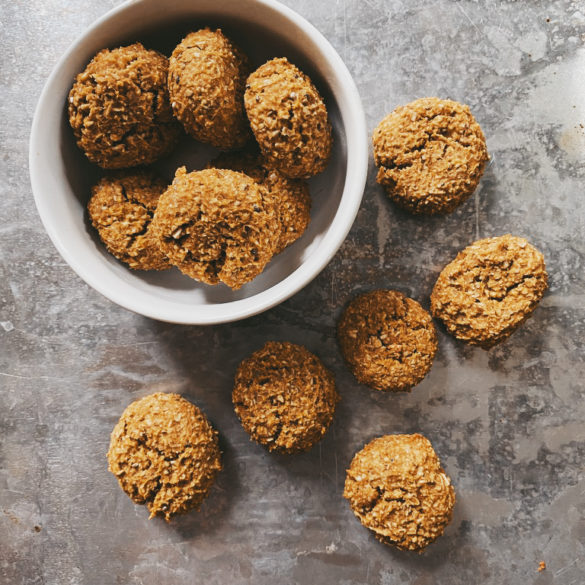 Ingredients
Wet Ingredients
1 medium steamed sweet potato
1 tbs maple syrup
1/2 tsp apple cider
1 tsp melted coconut oil
Dry Ingredients
1/2 cup oat flour
1/8 tsp baking soda
Optional:
Instructions
Cut and steam sweet potatoes. If using an instant pot, you can use high pressure setting for 5 minutes. Alternatively, you can cut the sweet potatoes, add a little water, cover them with a wet paper towel, and microwave in 3 minute intervals until soft. Keep adding more water as needed. You want them mushy.
While waiting for the sweet potatoes, set oven to 350 degrees and line a baking sheet with parchment paper or use a silicone baking mat.
Mix all dry ingredients in a bowl.
In a separate bowl, mash the sweet potatoes and add the rest of the wet ingredients.
Using a spoon add the dry ingredients to the wet and mix. You should have a soft dough. If it's too wet to roll into a ball, add more oat flour. If too dry, add a bit of water. Make tiny balls, about 1/2 an inch in diameter.
Bake for 10-15 minutes.
Notes
If you don't have sweet potatoes, you can try adding puréed apples or plain apple sauce (no sugar) instead.
Did You Make This Recipe?
Always consult your veterinarian if changing or adding new ingredients to your dog's diet. Introduce new ingredients gradually. Strive for balance and moderation. Certain foods can be harmful and might not be safe for your dogs to eat.