The recipe combines Indian and Thai flavors. It provides a less watery, high-protein, and a heartier alternative to your traditional Thai curry by adding lentils.
This vegan recipe cooks fast. Packed with essential vitamins and nutrients, you can eat it as soup with chips, or with quinoa or rice.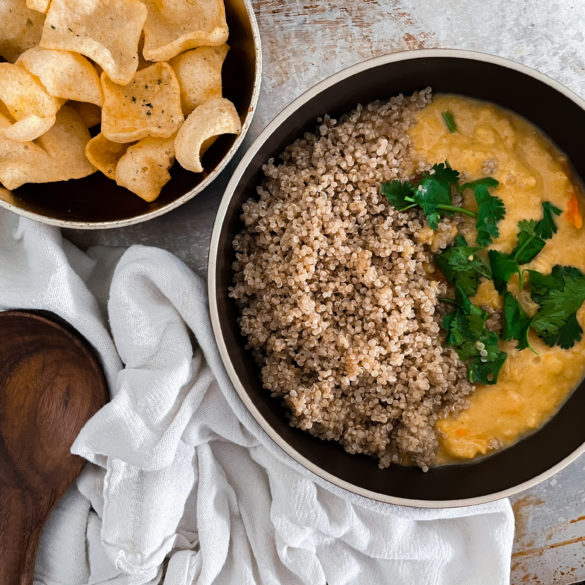 Ingredients
3/4 cups of yellow split pigeon lentils. Try 24Mantra brand. 
1/2 tbs. coconut oil (or other high-heat oil alternative)
1 shallot finely chopped 
5 cloves garlic minced 
1 tsp. grated ginger (ginger powder is fine)
2 cups veggies chopped bite-size (such as cauliflower, carrots, french beans, broccoli) 
1 cup butternut squash (frozen is fine) 
2 tbs. liquid aminos or soy sauce 
1 tbs. curry powder. We recommend Rani Hot Curry Powder. 
Salt and pepper to taste
1 1/2 cups of coconut milk or 13.5 fl. oz.can
Cilantro for garnish (optional)
Instructions
Wash the lentils and soak them for about 5 minutes and drain. Use this time to chop veggies. 
Turn Instant Pot to sauté for 15 minutes and add oil. When the pot has started cooking, add shallot and sauté for 2 minutes or until translucent. Add ginger (if using powdered, add later with the curry powder) and garlic and cook for 2 minutes. Add all the veggies and cook until the veggies are slightly tender. They don't need to be fully cooked. 
Add the rest of the ingredients except for the coconut milk. Turn off the Instant pot and add about 3 cups of water or until the water level reaches the veggies. No need to add too much water, since we will add the coconut milk after. 
Turn the Instant Pot to High Pressure for 5 minutes. Let it sit for about 15 minute to release pressure naturally when done cooking. Open lid and stir in the coconut milk. Garnish with cilantro.
Serve with quinoa, rice, barley, or chips. We have Simply 7 Jalapeño Lentil Chips pictured. 
Did You Make This Recipe?
The Power of Yellow Split Pigeon Lentils: Your Health and Your Environment
Lentils are at the top of the most environmentally-friendly food choices, based on a study done by the Environmental Working Group and Clean Metrics. This means that they produce the least amount of carbon footprint.
100 grams or about 1/2 cup of cooked yellow lentils has 14.3 grams of fiber and 11.4 grams of protein.
A staple in Indian cooking, you'll often hear the yellow split pigeon lentils referred to as Tur/Toor dal.