We made this recipe flexible and also with frozen corn and dry spices intentionally. For those days when you have a bunch of veggies but not quite sure what to make. This soup fills you up.
On Health
With the popularity of low-carb diets, corn has gotten a bad rap in recent times. But corn has tons of nutritional benefits, such as fiber, lutein, B6, and B9 (folate). If you're avoiding gluten, corn, in its natural form, is gluten-free.
Moreover, this recipe adds protein and amino acids from the cashews and nutritional yeast.
Although eating fresh veggies is preferred, we understand pre-packed frozen veggies can be convenient. So go for it. Better to eat frozen veggies than no veggies at all.
Eat this recipe as is, or with bread, crackers, or chips.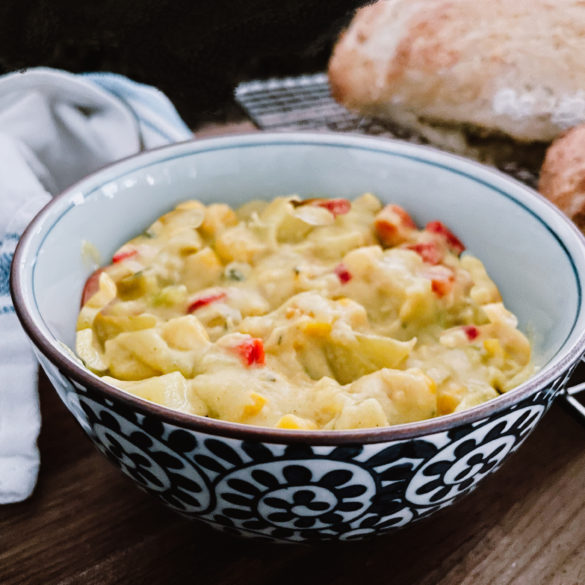 Ingredients
1/2 cup raw cashews
1 tbs olive oil
5 garlic cloves
2 shallots (sub 1 onion) finely chopped
4 cups of veggies diced small. Size is important in order for the veggies to cook fast and evenly and absorb flavors more. Some veggie choices: red bell pepper, carrots, potatoes, celery.
1 lb. frozen corn
1/2 cup nutritional yeast
Herbs: 1/2 tsp thyme and/or oregano, 1/4 tsp rosemary
4 cups of water
salt and pepper to taste (we used about 2 tsp of salt and 1/2 tsp of pepper).
Instructions
Place the cashews in a bowl and soak in water. Set aside.
Heat up pan and add oil
Add garlic and when it flavors the oil (1 minute), add shallots or onions. Sauté until shallots are translucent.
Add the veggies. Add the harder veggies first, such as potatoes and carrots and when halfway cooked, add the softer veggies. Stir occasionally.
Meanwhile, add 3/4 of the bag of corn to the blender, the cashews and the rest of the water. Blend until smooth.
When the veggies are fully cooked, add the corn/cashew blend, the spices, nutritional yeast, and the rest of the corn to the cooked veggies. Let it simmer. Stirring occasionally for about 5 minutes. Add more water if it gets too thick.
Did You Make This Recipe?