A nutritious recipe that goes well with bread or plain rice, Rajma is a great starter recipe for those who want to make home-cooked Indian food. The dish uses both whole and ground spices. You'll appreciate the benefits of using raw beans instead of canned pre-cooked beans. And you'll create flavorful dishes without using pre-made broth. This means less processed ingredients.
One of the barriers to cooking Indian food at home is purchasing the spices initially. This recipe makes use of minimal base spices. You can use these for other popular recipes such as the cumin seeds to flavor rice and cinnamon sticks for chai.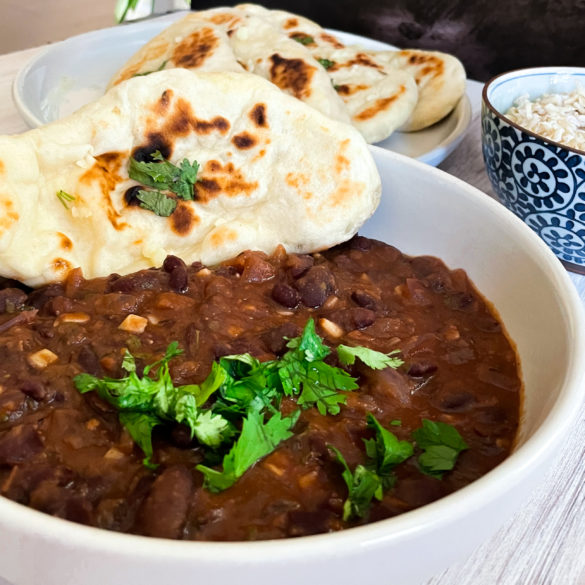 Ingredients
Soaking and Cooking the Beans
2 cups raw red kidney beans
10 cups of water (use some for soaking and the rest for cooking)
Flavors
1 tbs high heat neutral oil (safflower oil or avocado oil)
1 tsp cumin seeds
1 cinnamon stick
1 Indian bay leaf (skip if you don't have)
1 red onion diced
5 garlic cloves finely chopped
1 inch ginger grated
1 1/2  tsp coriander powder
1/2 tsp mango powder (amchur)
1/2 tsp red chili powder or paprika
2 tomatoes (pureed in a blender)
1 tbs tomato paste
1 1/2 tsp salt
1/2 tsp garam masala
1 tbs dried fenugreek leaves
Garnish (optional) 
Instructions
Wash the beans and soak for at least 6 hours or overnight in 6 cups of water. Remove water and add 4 cups of fresh water. If you don't have the time to soak the beans, use this Instant Pot Guide for no-soak beans.
Pressure cook soaked beans. If using Instant Pot to pressure cook, set up high pressure for 15 minutes. Let it sit for 10 minutes or natural pressure release.
Drain beans and save 1 cup of the water. You might not need all.
Heat oil in a heavy bottomed pan. Make sure it's hot but not burning.
Add the whole spices (cumin seeds, cinnamon stick, and bay leaf). The seeds should start crackling right away if the oil is hot. After about 10-15 seconds add chopped onions and a dash of salt. Note that if the oil is not hot enough when you initially put the whole spices, the seeds might not crackle. This is fine, but make sure not to burn them.
When the onions are light and translucent, add ginger and garlic. Sauté for 2-4 minutes.
Add the powdered spices (coriander, mango, and chili or paprika). Sauté for a minute to lightly cook spices.
Add pureed tomatoes and stir. When tomatoes and spices blend together nicely, add the cooked beans and tomato paste, salt, and 1/2 cup of the bean broth.
Cover and let it simmer for 7 minutes, making sure to add more of the broth if curry starts sticking to pan.
Turn off heat, and stir in garam masala and fenugreek leaves. Cover and let it sit for a few minutes. Enjoy!
Did You Make This Recipe?