This classic Indian dish is easy to make and nutritious. It goes well with basmati rice, or have it with chips, for a fusion version.
Nutrition: high in protein, fiber, iron, magnesium.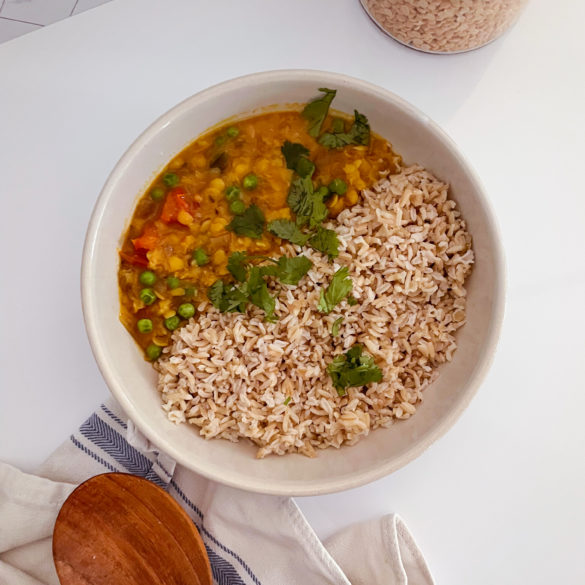 Ingredients
1 tsp cumin seeds
8-10 curry leaves (dried or fresh)
1 onion chopped finely
5 garlic cloves
1 tomato chopped
1/2 tsp turmeric powder
1/2 tsp coriander powder
1/2 tsp mango powder
1/4 tsp red chili or for less spicy paprika
3/4 tsp salt or to taste
1 cup washed yellow split pea
3 cups water
Optional
1/2 cup of peas or a handful of spinach leaves
Top with cilantro and/or lemon juice before serving.
Instructions
Set Instant Pot to sauté.

 

Add oil. When oil is hot, add the cumin seeds and curry leaves. If the oil is hot, the seeds should start crackling after a few seconds.

 

Once the spices are cooked, this means seeds crackling and leaves change color, add onions. Sprinkle salt for onions to cook faster. When onions are translucent and soft, add garlic. Cook for a minute.

 

Add chopped tomato and the rest of the spices. Cook for a minute.

 

Add the yellow split peas and stir, for about 2 minutes.
Add water. Turn off sauté mode. Turn on high pressure cooking for 5 minutes.

 

Let the pressure release naturally or for about 10 minutes.

 

Add the optional greens here.

 
Did You Make This Recipe?