I love a good cream of mushroom soup, but sometimes, I want a more textured and hearty soup. This soup is packed with protein, minerals, fiber, vitamins, and antioxidants. We have mung beans to thank for that.
If you want to add more beans and lentils to your diet, Instant Pot makes it so much easier and convenient. No need to keep a close watch, just set time, and let the pot do the rest. However, I did include a stove-top option for the recipe as well. It takes a bit longer to cook, but you get the same taste.
You can eat this soup as is, or serve with a side of bread or vegan grilled cheese sandwich.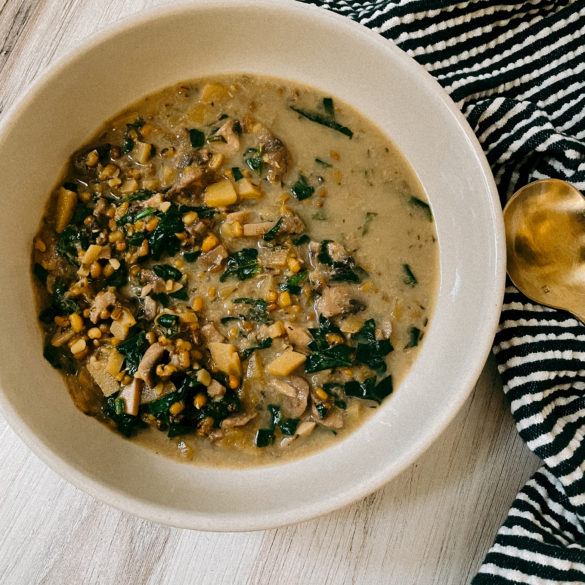 Ingredients
10 garlic cloves grated or 1 head of garlic

 

1/2 cup onions finely chopped (sub 1 shallot)
2 small white potatoes or 1 medium (washed, scrubbed and diced).
3 cups diced mushrooms (white or cremini)
1 tbs liquid aminos or soy sauce
1 tsp coriander powder
1 tsp mango powder
2 tsp thyme (dried or fresh)
1 1/2 tsp salt or to taste
3/4 mung beans washed
2 cups filtered water
1 1/2 tsp salt or to taste
1/4 cup nutritional yeast
2 cups spinach leaves
1 can of 13.5 oz. coconut milk
Instructions
Turn Instant Pot* on sauté. Add oil. When oil is hot, add the onions. Wait until onions are translucent and soft, then add garlic. It should only take a few seconds for the garlic to cook. It's easy to burn grated garlic, so be careful.

 

Add the potatoes and mix. It's important that the potatoes are diced small. After about a minute or so (they don't have to be fully cooked), add mushrooms and mix. After a few seconds and add coconut aminos, spices, and salt. Sauté for a minute.
Add the beans and water and gently mix.
Turn off sauté button and turn on high pressure for 8 minutes. Seal and let the Instant Pot do the work. Let it sit for about 10 minutes, then release pressure if needed before opening the lid.
Stir in nutritional yeast, spinach and coconut milk. Cover and let it sit for 3-5 minutes. Ready to eat.
*Don't have Instant Pot? No problem. Follow steps 1 to 3 in a pot. Cover and cook beans for about 25 minutes. You might need to add and extra 1 cup of water. When the beans are cooked (they should look mushy), complete step 5.
Did You Make This Recipe?