For the past couple of months I've been making overnight oats. I make sure to have one ready in the fridge all the time. This recipe is so easy, and no need to measure meticulously.
I usually eat it in the morning, but I also find myself eating a few spoonfuls when I want to eat something sweet, but also want to keep it healthy. It's filling, but not heavy.
I see tons of pictures online of pretty overflowing overnight oats in glass jars, but it's not quite realistic. At the end of the day, for practical reasons, you want the oats to stay within the container. Moreover, for mornings when you don't have time, this recipe doesn't require extra fruits to add. It's the perfect grab and go.
This recipe is also customizable. Enjoy!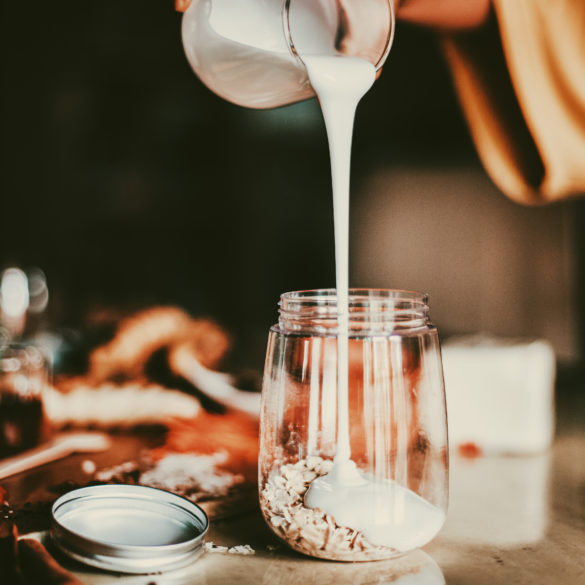 Ingredients
1 1/4 cups plant-based milk. I use Oatly original.
2 tbs nut butter. Peanut or almond works best for me.
1 tbs maple syrup
1/2 tsp cinnamon powder
1 tbs chia seeds
2 pitted dates, halved or quartered
1 tbs raisins
3/4 cup oats
Instructions
Find a glass that can hold at least two cups of liquid, preferably one that has a wide opening. You want to make sure that all of the oats are submerged in the liquid.
Add the ingredients as listed. No need to completely break the nut butter apart, a little stir will do. You can always stir before eating. If you want more sweetness, add dates, raisins, or maple syrup.
Cover. I use a silicone cover. .
Did You Make This Recipe?