When I find our fridge filled with veggies ready to be cooked, this is my go-to recipe. It curbs food waste and so easy to make. In this video, I mainly used broccoli, kale, and red bell peppers. However, you can add most of your favorite veggies. The trick is to cook the harder veggies first. This way, they all cook evenly.
Aside from the veggies, the recipe makes use of pantry or frozen ingredients, such as frozen shiitake, shoyu, and sesame seeds, to name a few.
Why Shiitake Mushrooms?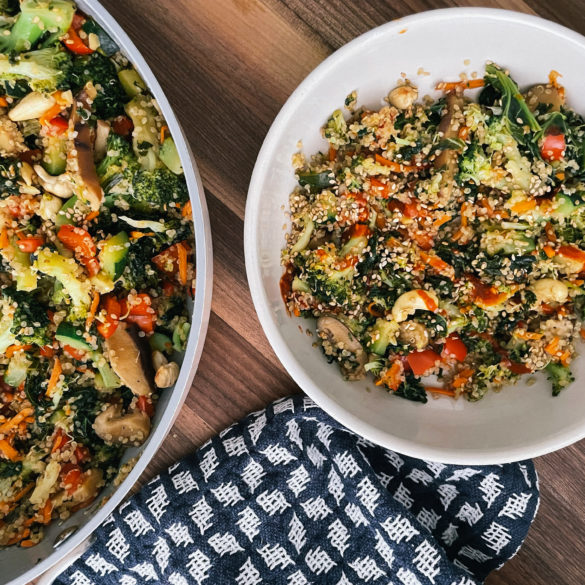 Ingredients
1/4 cup raw cashews
1/4 raw sesame seeds
1 tbs sesame oil
10 garlic cloves
1 tbs ginger

 

1 10 oz bag frozen shiitake mushrooms (Organic Shiitake Mushrooms from Woodstock Foods) or fresh (around 2 cups chopped)
5 cups of veggies chopped finely or shredded (shown: broccoli, kale, red bell pepper, zucchini, and carrots)
1/4 cup shoyu

 

1 tbs rice vinegar
1 tbs agave

 

2 cups cooked quinoa
Instructions
Heat up a large non-stick pan in medium heat. When hot, roast the cashews for about 2 minutes, stirring occasionally, and then add sesame seeds. When you hear the seeds popping and the cashews take on a golden/brown color, remove them from the pan and keep aside.

 

In the same pan, add oil. It should heat up quickly. Add the garlic and ginger paste and stir. After about 30 seconds, add the shiitake mushrooms. When they are slightly cooked, add the harder veggies. I added the chopped broccoli and kale first. Add a bit of salt stir, and cover. Let the veggies cook for about 5 - 7 minutes. The veggies should be softer, but not fully cooked yet. The mushrooms should give out some water, so the veggies should't stick, but make sure to check.
Add the red bell pepper and stir in the sauce. Cover and let it cook for another 3-5 minutes.
When the veggies are cooked, add the quinoa, shredded carrots, and salt to taste. Cook for another 3 minute stirring occasionally.
Turn off flame and add roasted nuts and seeds.
Did You Make This Recipe?