When it comes to plant-based burgers, I tend to prefer lentils to beans. I find that lentils absorb more of the flavors and are easier to make.
I like making extra of these patties, since you can easily store them in the fridge for a week or freeze them. This recipe makes 12 patties. They are a life-saver for those days when you want a healthy home-cooked meal but pressed for time.
Note that when it comes to burgers, condiments and finishing touches complete the recipe. I added my preferred ones, but I encourage you to make this your own. Make it tasty, and make it pretty.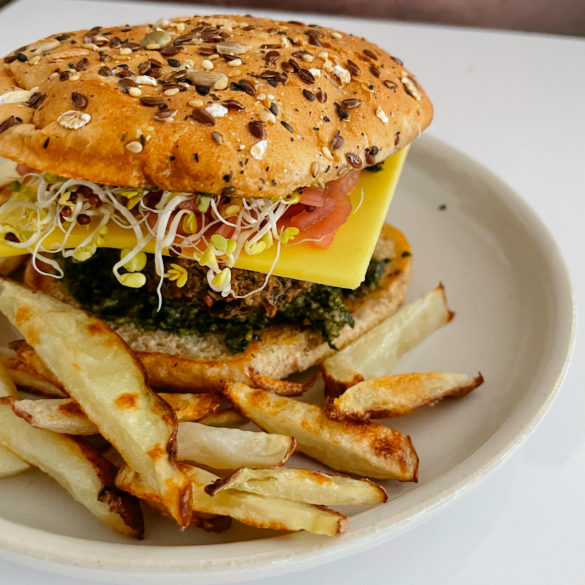 Ingredients
2 cups black lentils washed and soaked overnight or for up to a week in the fridge, covered.

 

1 cup nuts (pecans and walnuts)
1 tbs oil and a bit more for brushing the patties
1 diced yellow onion
10-12 garlic clovers

 (grated or minced) 

2 cup mushrooms, chopped 

 

1 red bell pepper, chopped 

 

1 cup shredded carrots

 

1 tsp cumin powder
1 tsp coriander powder
1 tsp mango powder

 

1/2 tsp paprika or red chili powder
salt to taste
1/2 cup water

 

2 cups spinach
1 cup buckwheat flour (or 3/4 cup brown rice flour)

 
To Prepare: 
1 burger bun

 

2 tbs pesto sauce
1 tbs pickled onions
1/4 cup broccoli sprouts

 

1 slice of vegan cheese

 
Instructions
Soak lentils overnight in the fridge (you can soak for a few days in the fridge and they are still fine).

 

Toast the nuts for about 3-5 minutes. Set aside.
Heat oil in a pan, add garlic and then onions. When onions become soft and translucent, add red bell peppers, mushroom, and carrots. Cook until they are slightly soft and then add the spices for a minute. The veggies don't have to be fully cooked.
Add the lentils, water, and salt. Cover and let it simmer for 10 minutes. Stir in the spinach. Cook for another 20 minutes. The goal is to cook the lentils without them being too wet. (see video).
Once the lentils are cooked, let it cool.
Heat oven to 375°F or 191°C.
While waiting for the oven to heat up, make the patties. In the food processor, pulse the nuts. They should be slightly fine, but not to the point that they become sticky. Add the rest of the ingredients and pulse until you have a sticky mixture.
Transfer to a bowl and add the buckwheat flour or brown rice flour.
Take a baking tray with parchment paper. Scoop 1/3 cup of the mixture and lightly brush the tops of the patties. Bake for 30-35 minutes total, flipping halfway. It should make 12 patties.
Assemble the burgers.
Did You Make This Recipe?