Indian snacks uses some of the most nutritious ingredients, such as mung bean sprouts. You can purchase the beans sprouted or sprout them at home. It takes about 3-5 days, but worth it. First, it's cheaper. Second, most store-bought sprouted beans come without the hull. Although some purposely avoid the hull since it can taste a tad earthy, it contains fiber. Also, I actually like the way they taste.
In terms of nutrition, sprouted mung beans pack even more nutrition than mung beans. Sprouted mung breakdown anti-nutrients. This releases more nutrients and also makes them more digestible.
A note, I find that either people love or hate sprouted mung beans. It can be an acquired taste. If you're not a fan of mung beans, I hope this recipe might change your mind.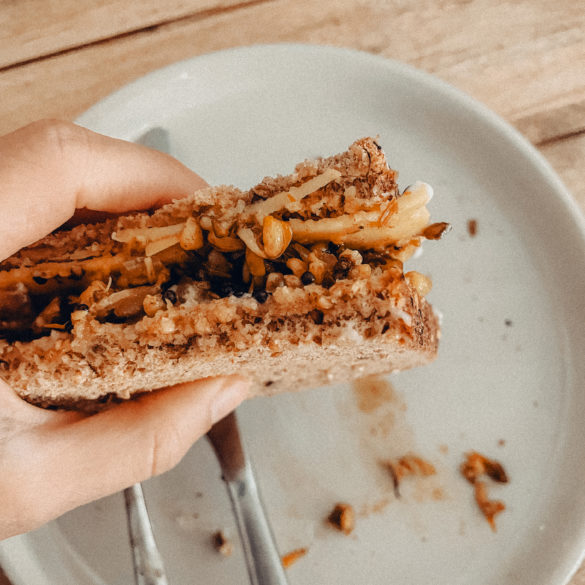 Ingredients
4 cups of sprouted mung beans, washed

 

1 1/2 tbs high heat oil
1 tsp cumin seeds
1 1/2 tsp black mustard seeds
8-12 dried curry leaves
1 medium onion
5-10 cloves grated garlic (if you love garlic, go for 10)
1 tsp grated ginger
1/2 tsp turmeric powder
1 tsp coriander powder
1 tsp cumin powder
1/4 tsp chili or to taste
2 diced tomatoes
5 tbs of filtered water (you might need less).
Salt to taste
Preparation and Garnish
2 pcs of bread 
1 slice of vegan cheese
1 tsp vegan mayo per serving
chopped cilantro
chopped red onions
Optional: lentil chips or something crunchy, such as toasted nuts or croutons
Instructions
Add the oil to a non-stick pan. Keep the flame at medium heat.

 

When the oil is hot, add the cumin seeds. Wait for about 15 seconds then add the black mustard seeds and curry leaves. I do this since cumin seeds take a bit longer to cook than mustard seeds. Once you hear the popping, of the seeds, they're ready.
Sauté onions until translucent. Add a dash of salt so they cook faster.
Add grated ginger and garlic. Stirring occasionally, it takes about 2 minutes to cook.
Add the rest of the spices with the tomatoes, salt, the sprouts, and 2 tbs of water if it looks dry. 
Cover and let it simmer for about 12 - 15 minutes. Keep checking every 4 minutes to check if it needs water. Add 1 tbs at a time. The bean sprouts shouldn't be hard. 
When ready to eat, prepare the sandwich (see video). 
If eating it from a bowl and ditching the bread, it tastes best with something crunchy, such as lentil chips or nuts. Avoid letting the chips sit too long with the bean sprouts, since they might get soggy. I like to add a few at a time, or use the chips to scoop the mung.
Did You Make This Recipe?
If You Choose to Sprout Your Own Beans
Wash 1 1/2 cups of mung beans and soak them for 12 hours or overnight in filtered water.
Discard the water and place the beans in a sieve and place a bowl under. Make sure the sieve is large enough since you will need more room for the sprouts. 
Take a tea towel and cover the beans. Place them on your kitchen counter. Preferably a place that doesn't get that much light.
The next day, wash the beans and repeat. Repeat again. You should see the beans sprout at this point, but if you want bigger sprouts, leave them for another day.
Wash the beans in warm water and discard beans sprouts that seem suspect. Should stay fresh in the fridge for up to 5 days.