A protein-packed alternative to flour or whole wheat tortilla, make this red lentil wrap for quesadillas or soft tacos. You can also eat it with Indian curry in place of Indian flat bread or chapati. A cup of red lentils has 18 grams of protein and 16 grams of fiber. Rich in iron and folate, red lentils are the ultimate superfood.
Flavors
Easily add flavors to your wrap, such as spinach or tomato. Both recipes provided, but feel free to experiment with flavors.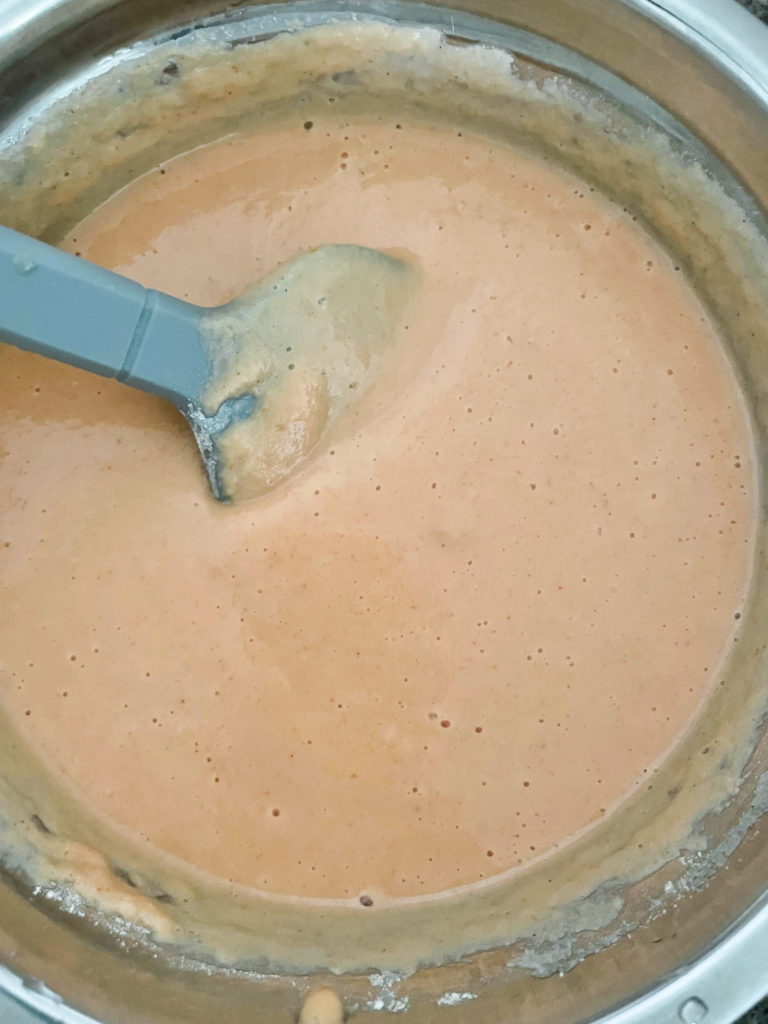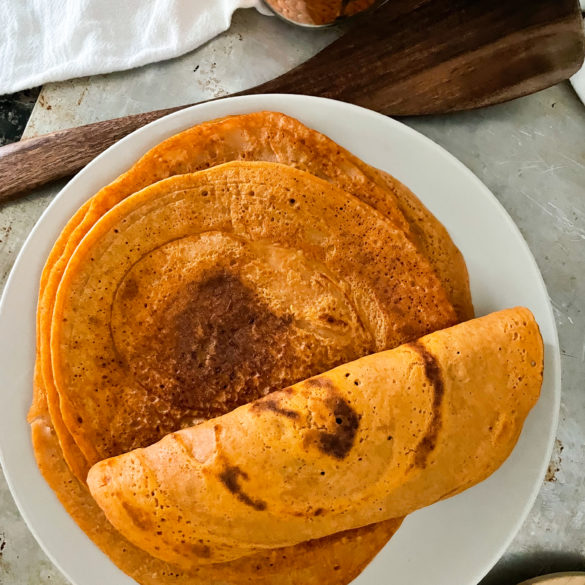 Ingredients
Base: 
1 cup red lentils 
3 cups filtered water (cold or room temperature). 2 cups for soaking and 1 cup for blending. 
2 cloves garlic 
3/4  tsp sea salt
1/4 tsp black salt (optional but recommended | gives an "egg" flavor) 
2 tbs whole wheat flour (or sub for 2 tbs chickpea flour for gluten-free version). 
1 tbs of high heat oil 
Tomato: 
2 tbs tomato paste 
Spinach:
2 cups of fresh spinach leaves 
Instructions
Wash lentils and soak them in 2 cups of water for 5 minutes. If using yellow lentils, see notes. 
After soaking, remove the excess water and place lentils in a high-speed blender with 1 cup water and the ingredients, except the whole wheat flour and oil. If you choose the tomato version, add tomato paste. If you are making the spinach tortilla, add spinach. Blend until smooth. 
Transfer batter to a bowl and mix in the flour. 
Heat a lightly greased iron skillet. Wait until it's hot, similar to cooking pancakes. Don't turn the flame high, so it gives you time to shape the batter. Medium-low heat preferable.
Place 1/2 cup of the batter in a ladle and distribute the mixture using circular motion. 
When one side is cooked, flip and cook the other side. Do not flip if the batter is still runny, or the tortilla will stick to the pan. Lightly brush oil before cooking the next tortilla. Recipe makes about 7-8 wraps.
Notes
These tortillas are best fresh. You can store the batter in the fridge for up to 3 days in an airtight container and make when ready to eat.
If using yellow lentils (split pigeon peas or toor dal), soak for at least 1 hour.
This recipe is inspired by the traditional South Indian dosa, a vegan crepe made of fermented rice and lentils.
Images are for the tomato wrap.
Did You Make This Recipe?